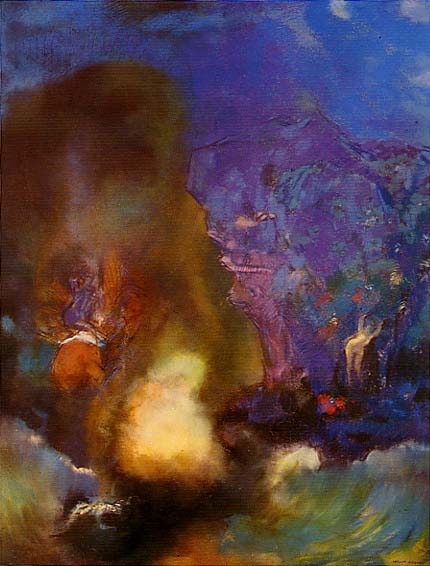 Roger and Angelica. Odilon Redon. 1912. Museum of Modern Art, Lillie P. Bliss Collection, New York. Silence. Odilon Redon. 1912. Museum of Modern Art, Lillie P. Bliss Collection, New York.


THE ARMORY SHOW OF 1913
While I recognize the necessity for a basis of observed reality... true art lies in a reality that is felt.
Odilon Redon (1840-1916), Symbolist artist
That's not art!
Theodore Roosevelt (1858-1919), 26th US President commenting on the artwork at the Armory Show of 1913
The legendary International Exhibition of Modern Art, also known as The Armory Show of 1913, introduced United States art patrons to Modern Art. From February 17 - March 15, the 69th Regiment Armory in New York featured 1250 avant-garde artworks, representing over 300 European and American artists.
The goal of the exhibition was to question the boundaries of art as an institution. Critics and news sources of the day viewed the pieces as nothing less than scandalous. Perhaps the single most controversial piece was Marcel Duchamp's Nude descending a staircase, No 2, which one New York Times' art critic termed -- an explosion in a shingle factory.
Thirty-eight of Redon's paintings and lithographs were featured in galleries J and K of the exhibition, making his work one of the centerpieces of the event. He met with significant critical and financial success, most notably due to the purchases of Lillie P. Bliss.
Bliss was an American art patron who inherited a sizeable fortune following the death of her father in 1912. She was instrumental in organizing the Armory Show of 1913 and was one of the earliest collectors of modern paintings. Redon artwork that she purchased during the exhibition includes: Pegasus Captive (1889), Petit Prélat (1889), The Light of Day (Le Jour)/Plate VI from Songes (1891), Druidesse (1892), L'Aile (1893), Silence (1911), Roger and Angelica (1912).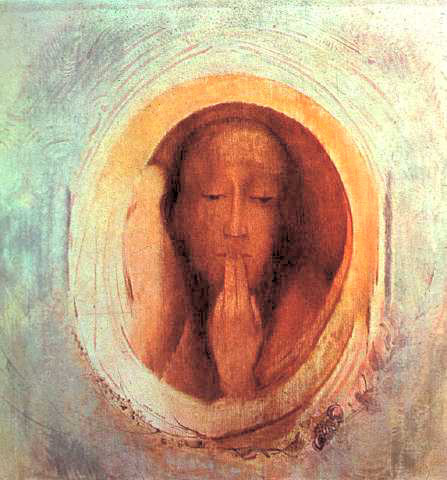 Notes

Paul Gauguin organized the first Symbolist art exhibition in 1889-90 at the Paris World's Fair. Better known Symbolist visual artists include Redon, Gustav Klimt, William Blake (as both artist and poet), Edvard Munch, Gustav Moreau and Arnold Bocklin. Historians credit Charles Baudelaire (1821-1867) as the forerunner of Symbolist poetry. Symbolist poets include William Butler Yeats, Stéphen Mallarmé and T. S. Eliot. The extensive list of Symbolist authors includes Edgar Allen Poe, George MacDonald, and Oscar Wilde.