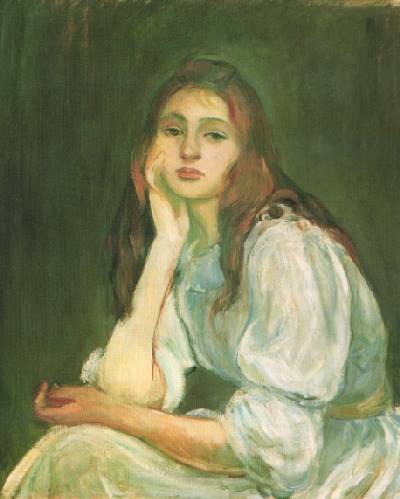 Julie Manet dreaming. Berthe Morisot. 1894. Private collection. For a period of six years, between 1893-99, Julie Manet kept a diary which details her teen years. Growing up with the Impressionists: the Diary of Julie Manet. Rosalind Debolande Roberts and Jane Roberts, 1988.


THE DIARY OF JULIE MANET
Monsieur Degas can think of nothing but photography. He has invited us all to have dinner with him next week and he'll take our photograph by artificial light: the only thing is you have to pose for three minutes.
Monsieur Renoir has been so kind and so charming all summer, the more one sees of him, the more one realizes he is a true artist, first class and extraordinarily intelligent, but also with a genuine simple heartedness.
. . . for some years now these [the Monets] have had nothing but sorrowful events. Excerpts from the diary of Julie Manet (1893-99)*
French Impressionist Berthe Morisot married Eugene Manet, the brother of French Impressionist Édouard Manet, in 1874. In 1878 they had their first and only child, Julie (1878-1966). We know few particulars of her childhood and her formal education. Yet it is clear that, because of her parents, Julie was part of the legendary circle of artists and writers of late nineteenth century Paris.
By the age of sixteen, Julie was parentless. In 1893 her father died. Two years later, after nursing Julie through a case of influenza, her mother contracted pneumonia and died. Stéphane Mallarmé, a Symbolist poet and close family friend, became her legal guardian. The greyhound pictured in the painting above was a gift from him to the family.
Like her mother and her uncle Édouard, Julie had a facility for painting and became an artist in her own right. In 1900 she married fellow artist Ernest Rouart. They had three sons.