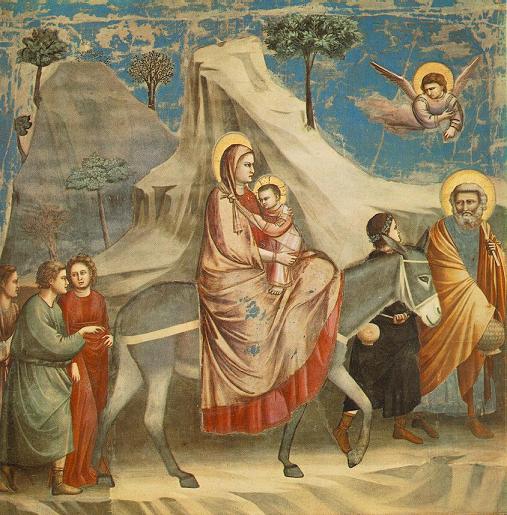 The flight into Egypt. Giotto di Bondone. 1267-1337. Cappella Scrovegni a Padova.
Compline [Latin completorium completion] is the final office of the church day. It is also known as the night office. Compline is contemplative in nature, with a focus on cultivating spiritual peace.
And after they were departed, behold an angel of the Lord appeared in sleep to Joseph, saying: Arise, and take the child and his mother, and fly into Egypt: and be there until I shall tell thee. For it will come to pass that Herod will seek the child to destroy him.
When he arose, he took the child and his mother by night, and departed into Egypt: and he was there until the death of Herod.
Matthew 2:13-14 [KJV]
The illuminated miniature above refers to the flight from Egypt described in Matthew and traditionally associated with Compline in The little office of the blessed Virgin Mary. The miracle of the palm trees is a Christian myth which describes the Christ child ordering a palm tree to bend toward his mother and provide her with food during the journey to Egypt. In the corn myth, corn miraculously grows to maturity overnight, allowing shepherds to report to Herod's soldiers that the family had passed by before the corn had grown. This manipulation of time enabled the shepherd to protect the holy family from the pursuit of Herod's soldiers. Pagan statues also tumbled to the ground as the holy family traveled, according to this myth.