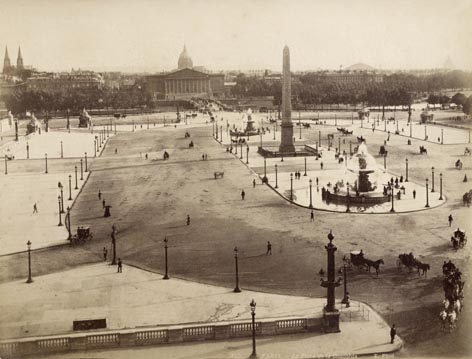 Place de la Concorde, showing the Luxor Obelisk and the two adjacent fountains. Paris. 1885; mermaid in fountain at Place de la Concorde.


THE VIEW FROM THE CENTER
What inspires me most about Paris is her sense of open horizon. Broad avenues, low graceful buildings and abundant natural space combine in a way that is as dégagé as an afternoon cup of coffee at a sidewalk café. And nowhere is that Parisian sense of uncluttered space and time more pronounced than at La Place de la Concorde.
Situated at the intersection of a major north-south and east-west axis, the plaza center is punctuated by a tall narrow obelisk, rather like an architectural exclamation mark to the extraordinary views which fan out from its center. From this vantage point you can see the Arc de Triomphe (west), the Madeleine (north), the Tuileries (east) and, across the Seine, the Palais Bourbon, (south).
In 1763 the plaza first came into being when the city erected an equestrian statue to celebrate the recovery of King Louis XV from a serious illness. Thirty years later, during the French Revolution, the nature of the plaza changed dramatically. The newly formed Parisian government replaced the equestrian statue with another imposing piece, entitled Liberté, and then placed a guillotine in the plaza center. They renamed the site La Place de la Revolution. From 1792 - 1795, there were more than 1300 executions on that guillotine, including such notables as Marie Antoinette, Louis XVI and Robespierre.
The plaza assumed its current incarnation in the mid-nineteenth century. Renamed La Place de la Concorde (the place of harmony), it was during this period that the Luxor Obelisk was erected in the location where the guillotine had once stood. At the same time, eight statues and two fountains with mythological themes were installed, which flank the plaza and obelisk to this day. This re-imagining of La Place de la Concorde was a conscious effort on the part of Parisians to move from a troubled past into a more hopeful future.