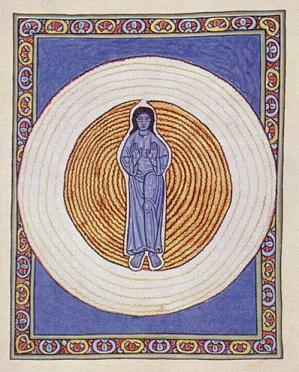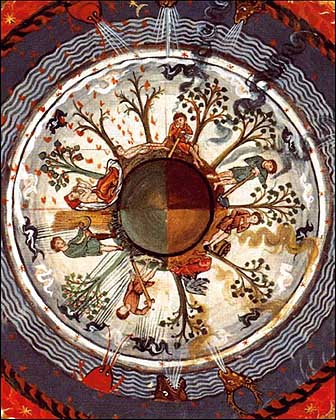 The vision of angels. Rupertsberg manuscript; The true Trinity in the true Unity, Hildegardis-Codex, sogenannter Scivias-Codex, Szene. 1165. Werkes Gottes, from Liber Divinorum Operu, early 13th century.


THE MANDALA
When I began drawing the mandalas, . . . I saw that everything, all the paths I had been following, all the steps I had taken, were leading back to a single point - namely, to the mid-point. It became increasingly plain to me that the mandala is the center. It is the exponent of all paths. It is the path to the center, to individuation.
C. G. Jung (1875-1961) Swiss psychiatrist, founder of analytic psychology
Mandala, a Sanskrit word meaning having essence or completion, is a circular design radiating from a central point. Its origins are in the spiritual practice of Hinduism and Buddhism.