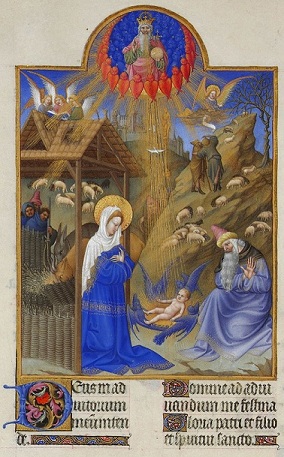 The nativity, Les Très Riches Heures du duc de Berry, 1410. The Musée Condé, Chantilly.


THE NATIVITY
Prime [Latin, primus, first] is the office which is read at the first hour or daybreak. Its purpose is to consecrate one's daily labors to God. According to fourth century documents written by Saint John Cassian, his monastery was the cradle of the office.
. . . it is to be known . . . this morning canonical function was first instituted in our time and in our monastery. . .
Saint John Cassian [360-435], monk noted for mystical writings
Originally there was no service between Lauds [4-6am] and Terce [9am]. Instead it was customary for monks to retire back to their rooms after Lauds. Prime was added to prevent the monks from sleeping during the entire interim between the two early offices. This meant that they would work earlier and longer, beginning their daily labor and spiritual practice immediately after Prime.
The nativity or story of the birth of the Christ is associated with Prime in The little office of the blessed Virgin Mary.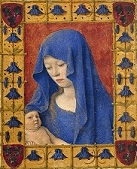 The little office of the blessed Virgin Mary
Matins (The annunciation)
Lauds (The visitation)
Prime (The nativity)
Terce (The annunciation to the shepherds)
Sext (The adoration of the Magi)
Nones (The presentation in the temple)
Vespers (The massacre of the innocents)
Compline (The flight into Egypt)