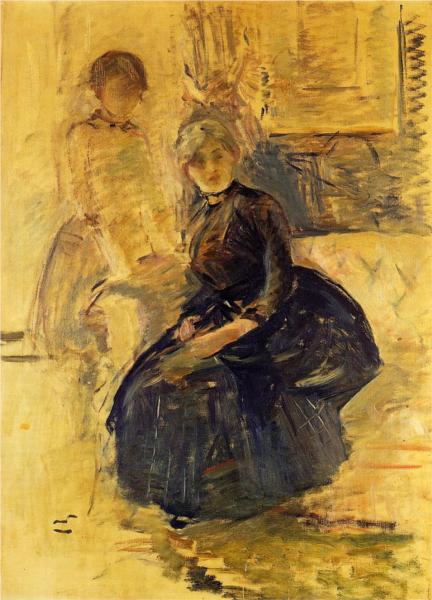 Self-portrait with Julie, a study. Berthe Morisot. 1887. Private collection.
[My desire] is limited to wanting to capture something that passes; oh, just something! the least of things. And yet that ambition is still unreasonable! A distinctive pose of Julie, a smile, a flower, a fruit, the branch of a tree, and every once in a while a more vivid reminder of my family, just one of these would suffice.
Berthe Morisot (1841-1895)
Berthe Morisot (1841-95) is one of the two most important female painters of the late nineteenth century, the other being the better known Mary Cassatt. Born into a refined and affluent family, Morisot took lessons in drawing and painting as a young woman. She met parental opposition, however, when she chose to pursue the craft seriously rather than as a gentile pastime.
Family members and friends served as her models. Butterfly Hunt (La chasse aux papillons) features her nieces and her sister, Edma. During the mid to late 19th Century, there were gender and class restrictions which dictated what subject matter was appropriate for a female painter. As a result, Morisot avoided nudes as well as urban scenes. However, her intimate exploration of domestic life was unusually daring for the time, as several paintings depict Edma pregnant.
The single most influential person to her personal and artistic life was Impressionist Édouard Manet. The exact nature of their alliance is unclear and continues to intrigue art historians. It is known that he helped her develop her style. Additionally, he introduced her to his brother Eugene whom she later married. Morisot, on the other hand, encouraged Manet to abandon the use of black and to utilize the brighter palette characteristic of the Impressionists. She also influenced him to practice plein-air painting.
When the relationship between Morisot and Eugene Manet began to warm, Mme. Morisot voiced her objections. She found him high-strung -- to the point of being in ill health --and too idle to make a good marital partner. Morisot's father lived a dissolute life and after a lengthy illness had recently died. For years, Mme. Morisot had nursed him and her concerns about Morisot's marriage were likely due to that. Despite her mother's objections, Morisot married Manet on December 22, 1874 in the local church, Our Lady of Grace in Passy.
I've found an honest and excellent young man who, I believe, sincerely loves me. I've entered into the positive side of life after having lived for a long time by chimeras. A letter from Berthe Morisot to her brother Tiburce (January 1875)
In 1878 Morisot had her first and only child, Julie (1878-1966) and during the eighteen year marriage, she created over 350 artistic works. That kind of productivity from a married female artist was unheard of at the time. In addition, until Manet's death in 1893, they were both active in the Parisian art and literary world, their home serving as a gathering place for artists and writers of late nineteenth century France. However, what is perhaps most telling is that in 1885, Morisot produced her first self-portraits. Up until that time, her brother-in-law, Édouard Manet, had held dominion over her image.
Toward the end of his life, Manet's health was poor. Morisot was frail throughout as well, battling her own health problems and tendency toward melancholy. By the age of sixteen, Julie was parentless. In 1893, after a prolonged decline in health, Manet died. Two years later, after nursing Julie through a case of influenza, Morisot contracted pneumonia and died. Her work did not gain significant recognition until well into the twentieth century.