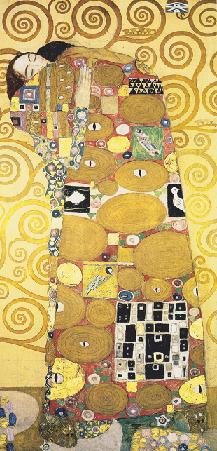 In the next creation of the series, The Embrace of Isis and Osiris (1905), Klimt shifts the focus away from the masculine by revealing the face of the feminine figure and assigning her the active posture. The mythic context is Egyptian and the emphasis is on the role of the feminine as the source of healing and rebirth. The scale is smaller, more intimate, with this couple alone except for the sprawling vastness of the tree of life.
In the final work of the series, The Kiss (1907-08), Klimt brings us closer still. The male and female forms are equally revealed to us by turning them simultaneously out toward the viewer and also face to face. Klimt simplifies the original idea this time by stripping away all supplementary symbols. The couple is alone on a field of flowers, set against a backdrop of bronze. This last compositional choice creates an intimate portrait of the perfect harmony between feminine and masculine, spiritual and physical.
(top to bottom) The Kiss. 1907-08. Österreichische Galerie Belvedere, Vienna, Austria; The Beethoven Frieze, 1902. Österreichische Galerie, Vienna. The embrace of Isis and Osiris, detail of working drawing for Stoclet Palace interior. ca. 1905. Österreichisches Museum für angewandte Kunst, Vienna.