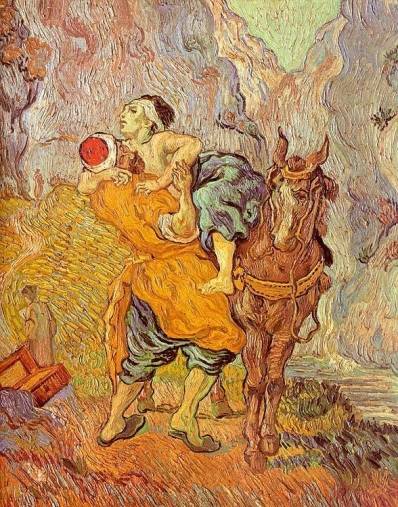 The Good Samaritan, after Delacriox. Vincent Van Gogh. 1890. Rijksmuseum Kröller-Müller, Otterlo, Netherlands.
Paul just called me on my cell phone while I was writing this. He is a third year law student at Fordham. It is very early on a Sunday morning and he is already well into his day.
I am almost at the legal aid clinic so I don't have much time. But I have a couple of questions for you. When Jesus said, "The poor will always be among us," do you think that is true? And what did he mean?
These are the sorts of questions that Paul always asks. For instance, I will say I believe forgiveness is an important goal between human beings. And Paul will ask, Why? And, frankly, I am not sure I have ever thought deeply about the why of forgiveness. It just seemed a given. But why?
Ok. Let me ask you something else. Why is it that every day on my way to Fordham I have to walk past someone who hasn't taken a shower for weeks and is crawling around on his hands and knees for change or a cigarette butt?
This is a Paul-question that has an answer. The reason that we see so many people on the streets is that so many people suffer from addiction and mental illness. There are simply not enough resources to help those who need it. This is what I tell Paul.
Why do we let that happen?
This is how it usually goes with Paul. One of Life's troubling questions always invites another. Humor is the only choice when the questions are large and there are no answers.
Well, Paul, when I was talking to the Dalai Lama this morning. Look, I am not sure I can answer that question in sixty seconds. So you want to know "Why do we let that happen?"

Sorry, I'm at the clinic. I don't have time for the answer. Oh . . . I think I just answered my question.