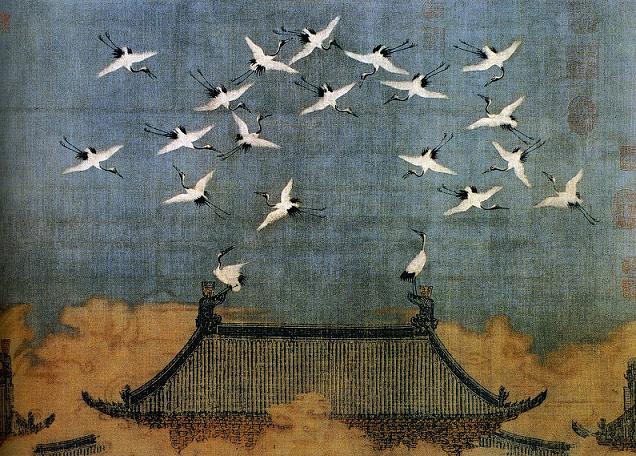 Auspicious cranes. Huizong of Song. 1112. Liaoning Provincial Museum. There is a report in this book that a large flock of cranes gathered around a palace building. This was an auspicious omen and Huizong wrote a poem to commemorate the occurence.
... Cranes have come to play a unique role as ambassadors for peace, helping peoples from different countries to recognize the common ground that unites them. Principles and methods developed through the study and conservation of cranes have contributed to the foundation of broader national, international, and regional programs for the conservation of biological diversity and the implementation of the idea of sustainable land use.
Meine, Curt D. and George W. Archibald (Eds). 1996. The cranes: Status survey and conservation action plan. IUCN, Gland, Switzerland, and Cambridge, U.K. 294pp. Northern Prairie Wildlife Research Center Online. http://www.npwrc.usgs.gov /resource/birds/cranes/index.htm (Version 02MAR98).
When the dawn arrived today, I was listening. I woke around six and stared into the shadows of my room, trying to decide whether I might fall back asleep for a few more hours. But then I remembered Rumi's words, words from a poem that I met for the first time yesterday.
The breeze at dawn has secrets to tell you.
Don't go back to sleep.
So, even though I had stayed up unreasonably late painting, the dawn today found me immersed in cranes and Klimt, two inspirational sources for my latest canvas and my most recent leg of the journey. It was my way of listening. This morning I learned that there are fifteen living species of cranes. But, due to loss of habitat, pollution and other environmental factors, eleven of the fifteen species are listed as either vulnerable, endangered, or critically endangered. Three species, Whooping, Red-crowned and Siberian cranes, have populations with such low numbers that extraordinary conservation efforts are underway to insure their survival. The Whooping Crane, with a total population of 485, reached the brink of extinction in the 1940's and is now one of the world's rarest and most carefully managed wildlife species. They are wondrous creatures, standing nearly five feet tall with a wingspan of almost eight. Their name comes from their distinctive cry.
This morning as I researched cranes, and Whooping Cranes in particular, I felt such an ache. The words won't come to describe it. There was one video that I watched where eighteen of these birds migrated with an ultralight airplane from Wisconsin to Florida. This was part of a conservation effort known as Operation Migration. Their efforts were nothing less than heroic but, shortly after the cranes successfully relocated, all but one perished in the Florida storms of 2006. And there's the ache that I find difficult to describe. It has to do with how fragile and how beautiful the song of creation is, how subtle and complex, how precious and rare. And what will happen if we fall asleep?