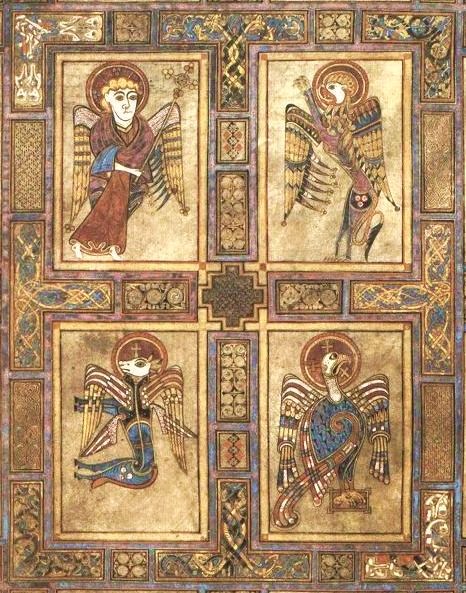 The four evangelists in symbolic form. The Book of Kells. Trinity College, Dublin. ca. 800 AD.
Around the throne, and on each side of the throne, are four living creatures, full of eyes in front and behind: 4:7 the first living creature like a LION, the second living creature like an OX, the third living creature with a face like a HUMAN face, and the fourth living creature like a flying EAGLE. 4:8 And the four living creatures, each of them with six wings, are full of eyes all around and inside.
Revelation 4:7-8
Luke, an apostle of Christ and one of the four evangelists, was a doctor and writer credited with the authorship of the Gospel of Luke and the Acts of the Apostles. He is the patron saint of artists and healers. His feast day is October 18.
The Guild of Saint Luke was a specific organization of European artists within the larger guild system which prospered between the 14th and 18th centuries. Earliest guild members were primarily manuscript illuminators; however, over time, guild memberships often varied to include scribes, visual artists, sculptors, art dealers, art patrons, painters and decorators. The Guild of Saint Luke, taking its name from the apostle credited with painting the first icon of Mary, was one of the earliest forms of these artist guilds. It exercised considerable power through its regulations of apprentice training and art sales. It also mediated disputes between artists or artist and their clients.
The Book of Kells features a plate depicting the four evangelists in their traditionally symbolic forms: Matthew [human/angel], Mark [lion], Luke [ox] and John [eagle]. There are several biblical sources for these symbols, including Ezekiel 1:1-14, Ezekiel 10:1-22, Daniel 7:1-8 and Revelation 4:7-8.