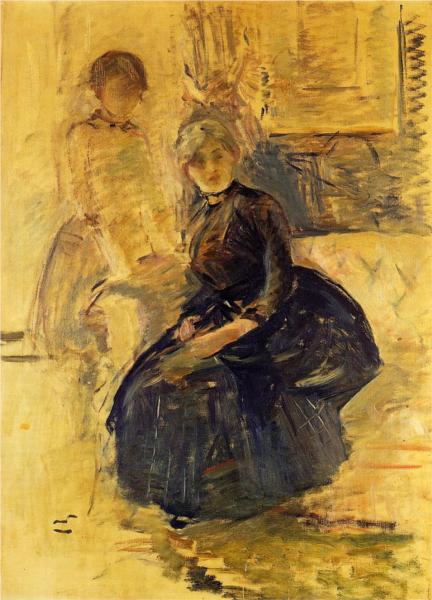 Self-portrait with Julie, a study. Berthe Morisot. 1887. Private collection.
[My desire] is limited to wanting to capture something that passes; oh, just something! the least of things. And yet that ambition is still unreasonable! A distinctive pose of Julie, a smile, a flower, a fruit, the branch of a tree, and every once in a while a more vivid reminder of my family, just one of these would suffice.
Berthe Morisot (1841-1895)
During her eighteen year marriage, Berthe Morist created over 350 artistic works. What is perhaps most telling is that in 1885, Morisot also produced her first self-portraits. Up until that time, her brother-in-law, Édouard Manet, had held dominion over her image. That kind of productivity from a married female artist was unheard of at the time. Until Manet's death in 1893, Manet and Morisot were both active in the Parisian art and literary world, their home serving as a gathering place for artists and writers of late nineteenth century France.
Toward the end of his life, Manet's health was poor. Morisot was frail throughout as well, battling her own health problems and tendency toward melancholy. In 1893, after a prolonged decline in health, Manet died. Two years later, after nursing Julie through a case of influenza, Morisot contracted pneumonia and died. Stéphane Mallarmé, a Symbolist poet and close family friend, became her legal guardian. Like her mother and her uncle Édouard, Julie had a facility for painting and became an artist in her own right. In 1900 she married fellow artist Ernest Rouart. They had three sons.