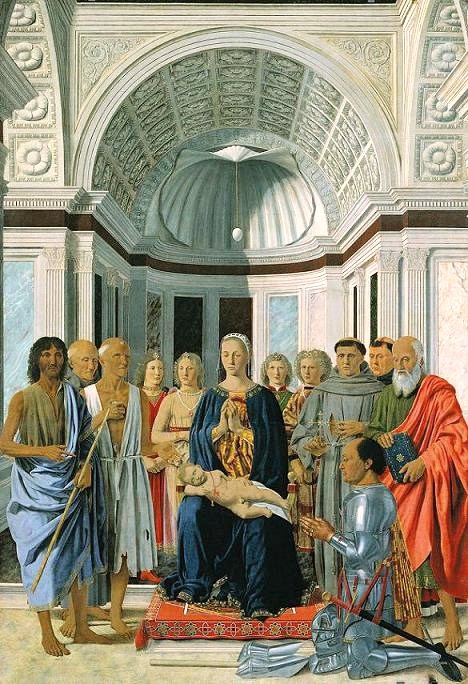 The Montefeltro altarpiece also known as Virgin with child, saints, angels and Federigo II da Montefeltro or The Brera Madonna [details], Piero della Francesca, 1465. Pinacoteca di Brera, Milan.
A creature that hides and "withdraws into its shell," is preparing a "way out." This is true of the entire scale of metaphors, from the resurrection of a man in his grave, to the sudden outburst of one who has long been silent. If we remain at the heart of the image under consideration, we have the impression that, by staying in the motionlessness of its shell, the creature is preparing temporal explosions, not to say whirlwinds, of being.
Gaston Bachelard, The Poetics of Space
The Brera Madonna is rich with symbolic imagery which explores death, resurrection, and rebirth. The coral beads have two purposes in this painting, functional and symbolic. Renaissance infants sometimes used coral beads for teething. In the visual vocabulary of the Renaissance painter, they were also a symbol of resurrection and rebirth. The mother and infant Christ, flanked by attendants, echo the traditional composition of mother and adult Christ found in Renaissance depictions of the pieta. Note the single coral pendant which Francesca places on the right side of the infant's chest, a reference to the sword wound that Christ received on the cross.