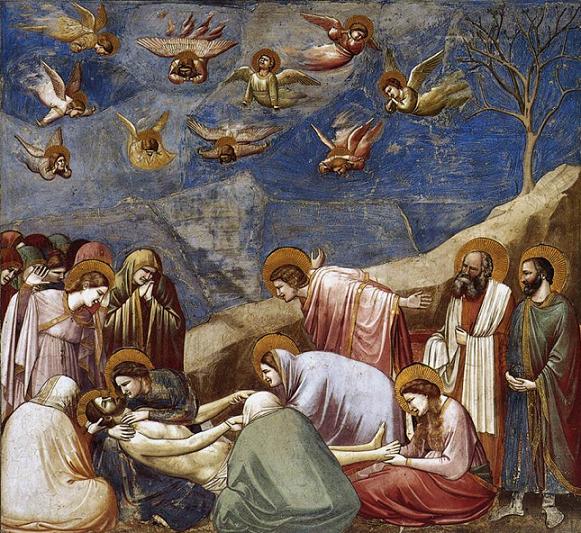 The lamentation. Giotto di Bondone. 1304-06. Cappella Scrovegni a Padova.
According to Christian tradition, Jesus of Nazareth returned from the dead in bodily form three days after his execution. There were multiple witnesses to his resurrection and their accounts are documented in the New Testament. However, there are other theories for the post-resurrection sightings which argue for alternate explanations of the events.
Under the "vision theory", witnesses to the resurrection had visionary experiences of the resurrected Christ rather than actual encounters. The "swoon theory" proposes that Christ did not die on the cross but fainted instead, thus appearing to have died. A related theory holds that Luke, the physician-disciple, assisted Christ in feigning his death through the use of drugs. A final explanation, the "stolen body theory" suggests that the disappearance of the body of Christ following the crucifixion and entombment was arranged by followers of Christ, specifically Nicodemus and Joseph of Arimathea. The goal in the stolen body conspiracy was to mask the actual death thereby lending support to the assertion that Jesus of Nazareth was the prophesied messiah and had triumphed over death.