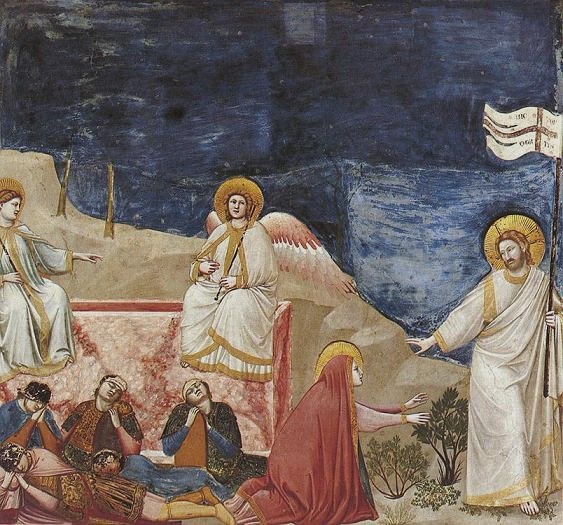 The resurrection also known as Noli me tangere. Giotto di Bondone. 1304-06. Cappella Scrovegni a Padova.
Now when Jesus was risen early the first day of the week, he appeared first to Mary Magdalene, out of whom he had cast seven devils. And she went and told them that had been with him, as they mourned and wept. And they, when they had heard that he was alive, and had been seen of her, believed not.
Mark 16:9 - 11
Myrrh [Latin myrrha, Greek myrrha, meaning 'was bitter'] refers to the plants of the genus Myrrhis and/or the resin from those plants. Myrrh resin is used in some perfumes, incense and medicines.
The term 'myrrh-bearers' refers to a group of first century women who assumed various roles in the events surrounding the crucifixion, entombment and resurrection of Christ. This included the ritual practice of dressing his corpse with ointments and spices, myrrh among the agents used in this practice. Traditional lists of the myrrh-bearers focus on eight women: Mary, the mother of Christ; Mary Magdalene; Mary and Martha, the sisters of Lazarus; Salome; Susanna; Mary, the wife of Clopas; and Joanna.
The most significant role of the myrrh-bearers is as first witnesses to the resurrection. The post-crucifixion accounts found in the New Testament detail the discovery of the empty tomb by several women and their vision of an angel who announced the resurrection. Mary Magdalene is pivotal in these accounts as they identify her as the first witness of the resurrected Christ. During that encounter, he instructs her to notify the disciples of his return. Consequently, the Christian church recognizes her as "equal to the apostles" or "the apostle to the apostles".
In Greek Orthodox and Greek-Catholic Churches the second Sunday after Easter is the Feast of the Holy Myrrh-bearers [also known as the Sunday of the Myrrh-bearing Women].