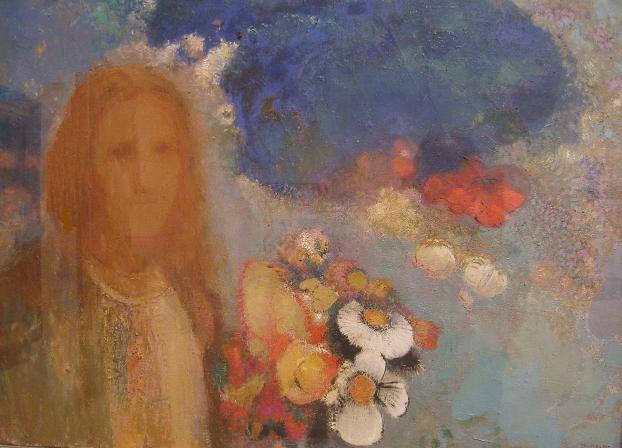 Spring, Odilon Redon. c. 1914. Worcester Art Museum. Worcester, MA. In Greek mythology, Hope was the daimon Elpis. Traditional depictions show her as a young girl holding flowers.
To unpathed waters, undreamed shores.
William Shakespeare (1564-1616)
The Winter's Tale, Act IV, scene iv
The maturing of artistic work often falls within the thematic parameters of alterswerk. Alterswerk, literally latter works, refers to the final output of an artist just prior to their death. The three characteristics of alterswerk -- interest in death, recapitulation, and prophetic visions -- not only occur toward the end of an oeuvre but they also accompany the final psychological stages of life. The artworks by Redon which fall after 1905 best fit this category of alterswerk. During this period his use of color reached its zenith as he repeatedly explored spiritual motifs, such as the Buddha, Apollo's Chariot, and the death of Ophelia -- as well as a series of butterflies, flowers and boats.
In the last three years of Redon's life there were several significant events. To begin with, there was the Armory Show of 1913 which introduced American art patrons to Redon. He was not only the most represented artist in the exhibition but one of the most financially and critically successful as well. That same year, André Mellerio published a catalogue of his lithographs. This recognition late in his life continued in 1915 with two more major exhibitions: one at the John Herron Art Institute of Indianapolis and the Second Exhibition of Contemporary French Art at the Caroll Gallery of New York. In his personal life the most significant event was his son Ari's mobilization for war (1914). This development was the inspiration for Redon's painting The cyclops.

Redon remained a quiet and intensely private artist to the end of his life. He died in Paris on July 6, 1916.