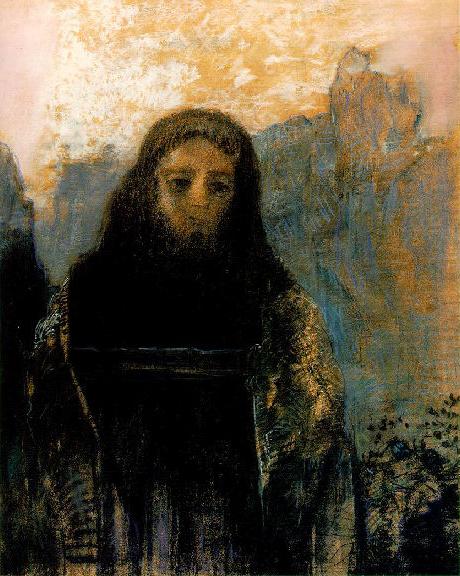 Parsifal, also known as Saint John. Odilon Redon. 1912. Musée D'Orsay, Paris.
One wonders why it is necessary that a part of one be so badly wounded . . . But many legends inform us that we must pay a price for the departure from the Garden of Eden and the journey to higher realms of consciousness.
Robert Johnson, author
Parsifal. We first met in an exhibition room at the Musée d'Orsay in Paris. His face, however, was not nearly so clear that day as the image above. In the museum it was clouded by fluorescent lighting, the colors and soft details shrouded by dim, blue light. But the poor lighting actually contributed to an atmosphere of mystery which was part of the wonder of encountering Redon's Parsifal for the very first time. Encounter would be the right word here. Or maybe collision is even better.
I circled through the d'Orsay numerous times, leaving Parsifal behind to visit other exhibitions -- only to find my way back, time and again, to Redon's visionary world. What was it that kept calling me back? The answer is at the heart of great art and great artists, the idea of pointing to something unseen, something transcendent, something beyond words and ideas. And that is what I experienced while colliding with Parsifal and Redon.