LIFE AS MYTH
JOURNAL
JOURNAL 2013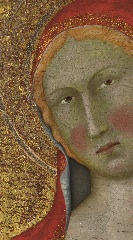 A living myth
Seven year cycles
WINTER 2013
A living faith
The chapels of the seven tongues
LIFEWORKS
ARCHIVES

WINTER 2013

THE CHAPEL OF SAINT SAVIOUR

| | |
| --- | --- |
| (top to bottom) stained glass window, The chapel of Saint Saviour, The chapels of the seven tongues, The Cathedral of Saint John the Divine, New York, New York. 2013; the altar; credited as "la vida de san Serafin of Sarov" (counterclockwise: Seraphim entering the hermitage in the woods, in prayer on a rock, feeding a bear, vision of the Virgin Mary, in prayer before the Theotokos, portrait of the saint.) Artist unknown. nd. | |

Thou met'st with things dying, I with things new-born.
Act III scene iii, The Winter's Tale (1610-11), William Shakespeare

The chapel of Saint Saviour, or chapel of the Holy Savior, is the design of the cathedral's original architects, Heins and LaFarge. It was the first of the chapels of the seven tongues to be completed (1904) and the first completed worship space within the cathedral as a whole.

The chapel occupies the central point of the chevet, immediately behind the high altar. This is the easternmost point in the cathedral and a fitting location for the chapel of the Holy Saviour which is dedicated to communities of the Eastern Orthodox Church. Though the overall design is western and Gothic, the iconography throughout the space is decidedly eastern.

One example of Eastern Orthodox influence is the stained glass window which serves as the focal point for the chapel. Designed by Hardman of Birmingham, England, the glasswork depicts the transfiguration of Christ. This emphasis on transfiguration reflects the differing theological foci of the Eastern and Western churches, with the western tradition centering on crucifixion and the eastern tradition on transfiguration. This distinction manifests in the depictions of the saints. For example, Saint Francis (western tradition) bears the stigmata while Saint Seraphim (eastern tradition) wears white robes and has a nimbus.

SERAPHIM OF SAROV, born Prockhor Moshnin (1754-1833), is one of the most revered saints and mystics of the eastern tradition. After his recovery from a serious childhood illness, Seraphim reported that he had received visions of the Virgin Mary. These first visionary experiences continued throughout his life as did his devotion to the Madonna.

There are numerous legends about the saint. Many occur during the period when he retreated to a hermitage in the woods. During this time, Seraphim intensified his practice of poverty, asceticism and isolation as paths to higher spiritual consciousness. This included praying for one thousand days and nights while kneeling on a rock. Another one of the better known legends describes an instance when the saint subdued a bear and fed it from his hand, a metaphor for the self mastery that Seraphim prized.

Saint Seraphim is the patron saint of spiritual help, consolation and compunction. His name derives from the highest of the nine classes of angels and means "burning ones". His feast day is January 2.