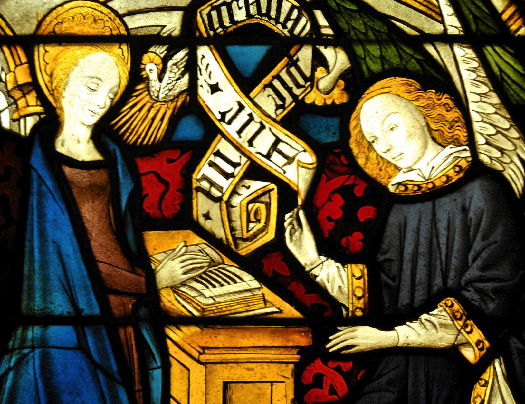 The annunciation, artist and date unknown. Metropolitan Museum of Art, New York; (below) The virgin annunciate, Antonella da Messina. 1476. Palazzo Abatellis, Palermo.
The book of hours is a Christian devotional of writings, psalms and prayers, popular in the Middle Ages and intended for the laity. The books were usually in Latin though vernacular forms were not uncommon. The practice of reciting the hours was meant to provide the individual with a more immediate relationship with God and the Virgin Mary. The standard components included a calendar of church feasts, the Hours of the Virgin, the Hours of the Cross, the Hours of the Holy Spirit, the Office for the Dead, and the Suffrages.
The books varied in decorative content. Simpler versions contained only ornamental letters. More lavish versions, commissioned by wealthy patrons, featured richly executed full page illustrations or miniatures. One such example, Les Très Riches Heures (The very rich hours of the Duke of Berry), is possibly the single most valuable book in the world.
THE LITTLE OFFICE OF THE BLESSED VIRGIN MARY
The little office of the blessed Virgin Mary is a weekly devotional cycle consisting of psalms, hymns and sacred readings. It began in the eighth century as a monastic spiritual practice. By the tenth century it was in widespread use as a standard text in the book of hours. By the fourteenth century it was obligatory practice for all clergy.