LIFE AS MYTH
JOURNAL
JOURNAL 2014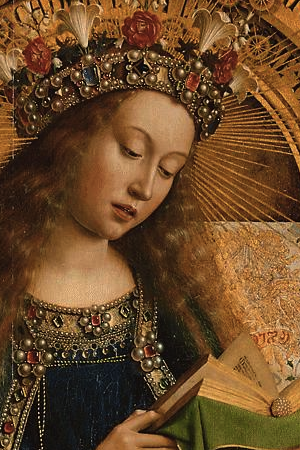 The poetics of grace
On shells and nests
SPRING 2014
The sun, the moon, and the stars
LIFEWORKS
ARCHIVES

SPRING 2014

A NEST FOR THE WORD

| | |
| --- | --- |
| The nativity, The Belles Heures of Jean of France, Duke of Berry*. Ink, tempera, and gold leaf on vellum; The Cloisters Collection. Metropolitan Museum of Art. ca. 1406-09. The nativity. Giotto di Bondone. 1304-06. Cappella Scrovegni a Padova. | |

The nativity or story of the birth of the Christ is associated with Prime in The little office of the blessed Virgin Mary. Prime [Latin, primus, first] is the office which is read at the first hour or daybreak. Its purpose is to consecrate one's daily labors to God. According to fourth century documents written by Saint John Cassian, his monastery was the cradle of the office.

. . . it is to be known . . . this morning canonical function was first instituted in our time and in our monastery. . .
Saint John Cassian [360-435], monk noted for mystical writings

Originally there was no service between Lauds [4-6am] and Terce [9am]. Instead it was customary for monks to retire back to their rooms after Lauds. Prime was added to prevent the monks from sleeping during the interim between the two early offices. This meant that they would work earlier and longer, beginning their daily labor and spiritual practice immediately after Prime.

(above) LES BELLES HEURES (Item, une belles Heures, tres bien et richement historiees [Item, a beautiful hours, very well and richly illuminated]) features exclusively the illumination work of the Limbourg Brothers - Herman, Paul and John. Commissioned by Jean France, Duke of Berry, in 1405, the brothers finished the book in 1409. The Limbourg brothers were unusually close to the duke and were commissioned by him for several different book of hours. In this version, they added more artwork than originally planned, creating seven picture book cycles with three to twelve full page illuminations in each cycle. This illumination is noted for its strong emotional content, unusual for painting during this period. The book is presently in the Cloisters Collection of the Metropolitan Museum of Art (New York).