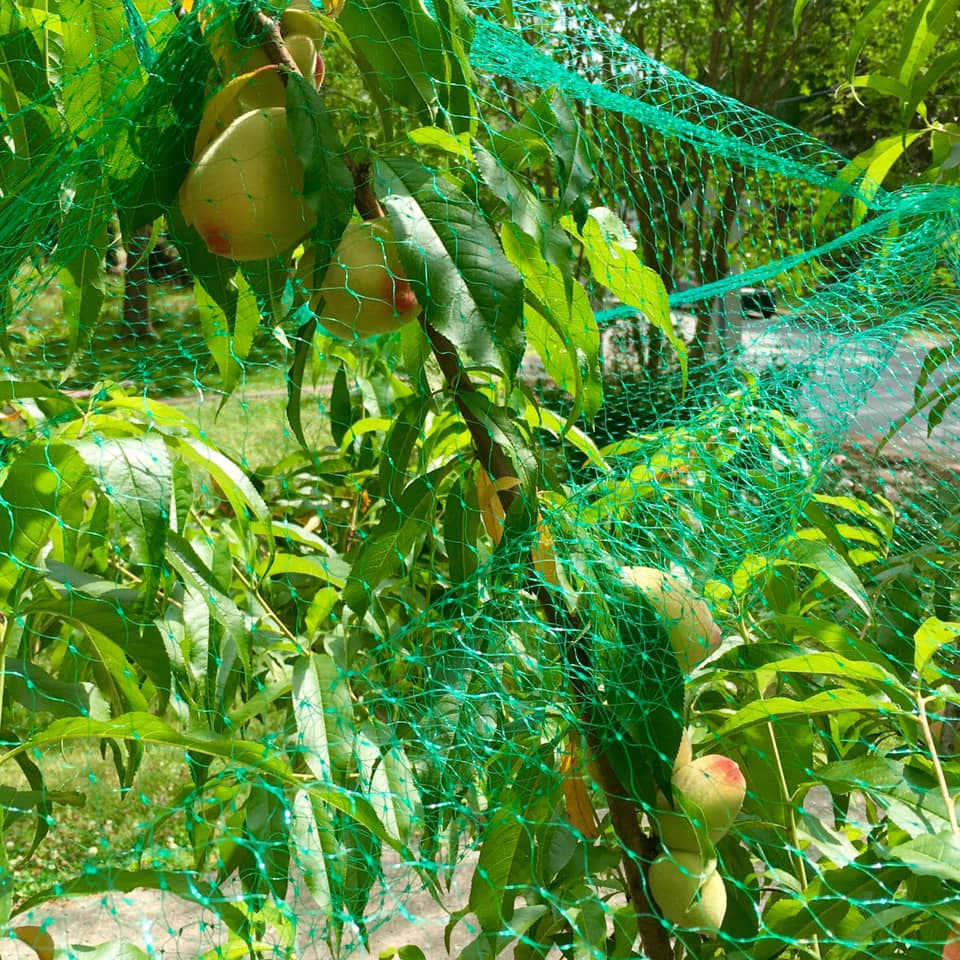 Every year when my peach tree fruits I think about that lovely myth of the immortal peach. This year was no different. Then the squirrels crashed the birthday party. But, in the end, there was a single peach, protected in the highest branches of the tree, and somehow that seems right. Earlier this week I ate the immortal peach. It was completely wonderful, the best fruit so far. As for next year, I'll remember all the lessons the peach tree has taught me and I'll be buying squirrel nets.
A yearly update on me, the little peach tree and the neighborhood squirrels. Something very interesting happened in our relationship in the spring of 2021.
First. She produced hundreds of fruits this year. But now how to protect the crop from the neighborhood squirrels? Last year it was squirrel nets but this year she had outgrown them. If I had had a crane and some human ground support then maybe we could have wrapped her up against the furry felons. But she was left exposed. Her branches began to droop with fruit. I began culling the fruit, tossing the extras in the bushes. But I couldn't begin to do enough. There was that much fruit.
What should have worked but didn't: squirrel nets and culling.
Next. The squirrels began their attack, taking bites of the young peaches and leaving the damaged goods behind. I tried to push back. I'd open the front door and shoo them (like that would help). Once I went right up to the tree to chase a squirrel away. When he didn't move I began shaking the branch. He remained, not moving one inch. This was the crossroads for me and his kind. I gave up. Maybe I'd given up a week or so earlier but it was official now: they had bested me. Again.
I felt bad for giving up, for making that choice. But then I realized something. I could beat the squirrels at their own game. There was so much fruit that it didn't matter. The squirrels were now free to raid the tree without interference. The heavy branches soon began to lift and small weak twigs littered the ground around Little Peach tree. The squirrels were doing my work for me — culling and pruning, something I was unable to do.
Of course One must never be complacent about squirrels. I couldn't hope they would leave me a share of the peaches. So today I harvested 46 peaches. All that remained on the tree. They are vibrant, unblemished and quite small. They will ripen undisturbed on my window sills.
Squirrels, Little Peach tree and I now coexist. At least this year we do. Little Peach tree looks exhausted, having given birth to so much bounty. The squirrels have a few more damaged peaches to eat and then they will move on to their summer work: taunting my dogs in the back yard.
As for me. I'm musing on this year's teaching from the peach tree -- ideas about harmony and natural cycles and coexistence. About picking your battles, especially when dealing with squirrels.
Shown here is a commemorative video of the harvest of 2021, starring a ladybug who hitchhiked into the house in a basket of peaches. A ladybug who refused an offer to take her back outside and flew away into the recesses of a little home -- where she is most welcome.