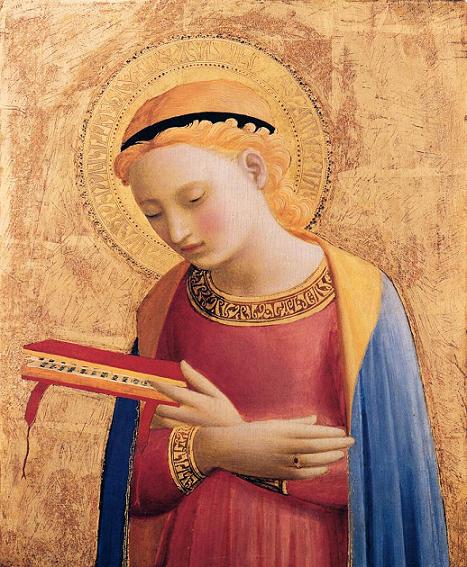 Virgin annunciate. Fra Angelico. 1431-33. Institute of Arts, Detroit.
The little office of the blessed Virgin Mary is a weekly devotional cycle consisting of psalms, hymns and sacred readings. It began in the eighth century as a monastic spiritual practice. By the tenth century it was in widespread use as a standard text in the book of hours. By the fourteenth century it was obligatory practice for all clergy.
This ritual remained common practice until Pope Paul VI recommended that practitioners use the Divine Office in lieu of The little office of the blessed Virgin Mary. This decision by the Pope was consistent with other changes in the church calendar during the Second Vatican Council. Seen in the overall context of Pope Paul's many teachings on Mariology, the shift away from the Little office of the blessed Virgin Mary was an attempt to consolidate ritual practice rather than devalue the integral status of Mary within the Roman Catholic Church.
Since the conclusion of the Second Vatican Council, the little office has endured in print and practice as an alternative to The Divine Hours. This option accommodates those who simply prefer the Little Office over the Hours and also those who choose to center their daily spiritual practice around the Virgin Mary.