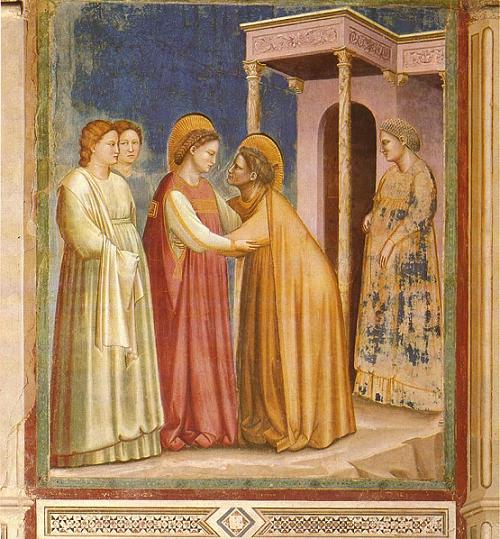 The visitation, Giotto di Bondone. 1267-1337. Cappella Scrovegni a Padova.
Lauds is one of the most ancient offices and can be traced back to the era of the apostles. Also known as the Morning Office or Office of Aurora, it is the principle office of the day. The origin of the name [Medieval Latin, laud-, praise] derives from the psalms [Psalm 148, 149, or 150] which traditionally close the service. The intent of this office is to recall the resurrection of Christ.
My soul doth magnify the Lord,
And my spirit hath rejoiced in God my Saviour.
Luke 1:46 - 47 [KJV], opening lines of The Maqnificat
In The little office of the blessed Virgin Mary this ritual is associated with the visitation, a meeting between Mary and Elizabeth, found in Luke 1:39-56. Significantly, both women are pregnant: Elizabeth with the prophet John and Mary with the Christ child. Their conversation addresses the nature of faith and service in the context of these pregnancies.
The scripture in this passage of Luke is also the source of The Magnificat, a popular canticle spoken or sung in church services.