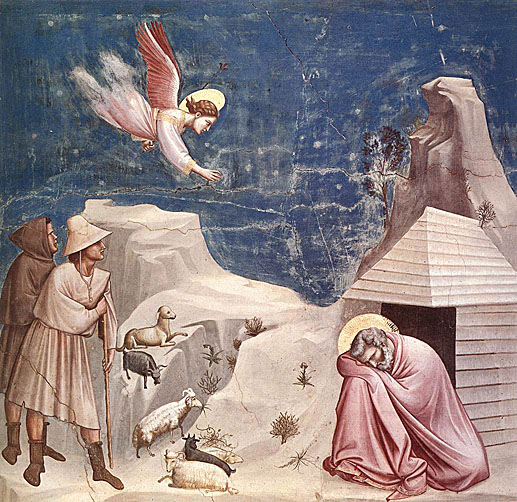 The dream of Joseph. Giotto di Bondone. 1304-06. Cappella Scrovegni a Padova.
Terce, or Third Hour [Latin, from hora tertia, third hour after dawn], is a fixed hour for prayer dating back to Apostolic times. The third hour was also the traditional hour for Eucharist on feast days. This custom derived from the biblical reference to the third hour as the time that the holy spirit descended on the apostles at Pentecost. The third hour is also called hora aurea or hora sacra ("golden hour" or "holy hour").
And the angel said unto them, Fear not: for, behold, I bring you good tidings of great joy, which shall be to all people.
For unto you is born this day in the city of David a Saviour, which is Christ the Lord.
And this shall be a sign unto you; Ye shall find the babe wrapped in swaddling clothes, lying in a manger.
Luke 2:10-12 [KJV]
The annunciation to the shepherds is an event in the nativity of Jesus and is found in Luke 2. In the little office of the blessed Virgin Mary, it is associated with Terce.