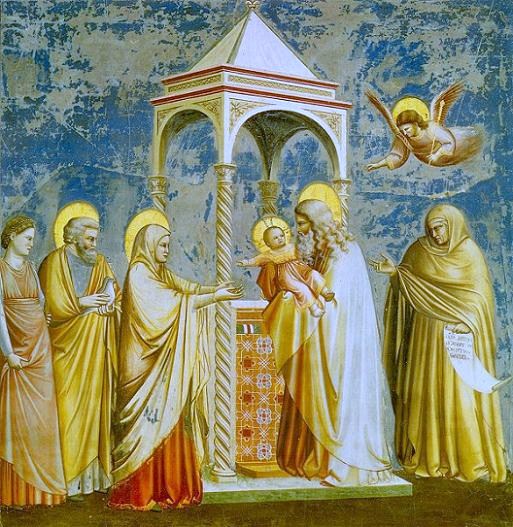 The presentation in the temple. Giotto di Bondone. 1304-06. Cappella Scrovegni a Padova.
None [Latin, nona, ninth] is the service which takes place at the ninth hour after sunrise, or roughly 3pm. Along with terce and sext, it is a traditional time for private prayer. The rite was in existence by the fourth century and was mandatory for monks. The original purpose of None was to acknowledge the conclusion of the day's work.
Lord, now lettest thou thy servant depart in peace, according to thy word:
For mine eyes have seen thy salvation,
Which thou hast prepared before the face of all people;
A light to lighten the Gentiles, and the glory of thy people Israel.
Luke 2:29-32 [Simeon gives thanks on viewing the infant Christ]
In the little office of the blessed Virgin Mary, None is associated with the presentation of the infant Christ in the temple. A description of the event is found in Luke 2:22-40. In addition to the holy family, Simeon is part of this story and he is often found in depictions of this scene. He was a man devoted to God and had received the promise that he would not die before he saw the Messiah. There is also a reference to the prophetess, Anna, who was present at the temple and later spread the news that the child had been born who was the awaited redeemer.